Shreya:
Etsy
This deck is so beautiful! Came really quickly and was packaged so nicely too! ✨ Thank you 🙂 x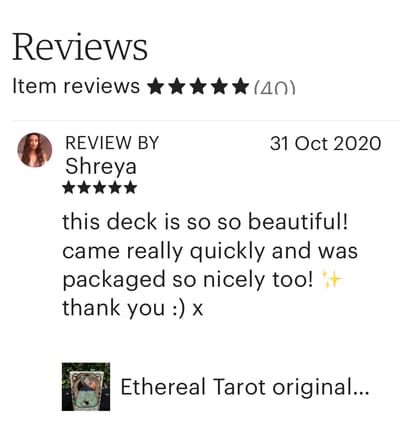 Karen Craik:
Etsy
Nice bottle nicely presented and packaged well 😀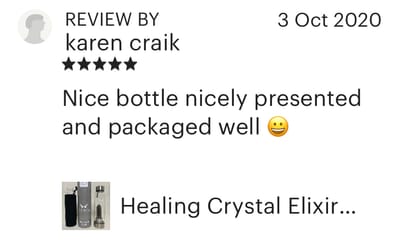 Chloe Wylie:
Etsy
The cards arrived carefully packaged and really quickly. They're stunning and I couldn't be happier them 😊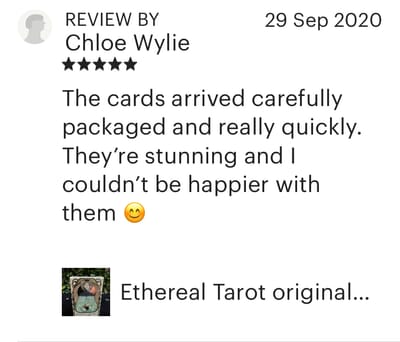 Torzo80:
Etsy
Lovely crystals thank you! With a cutie little surprise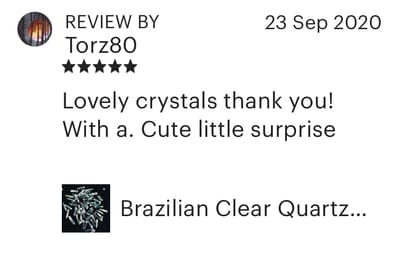 Renhartman:
Etsy
Fast shipping. Package was wrap with so much care. It is a present for my daughter and I cannot wait to give it to her. Can't wait to buy myself one.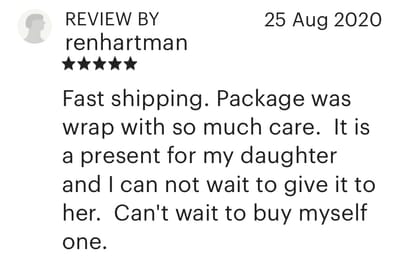 Yvonne:
Etsy
Stunning set of cards, I'm in love with them. They were delivered much quicker than the estimated delivery date and I loved the thank you card in there. Thank you 💜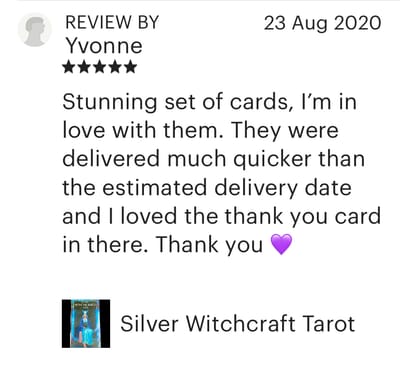 Donna:
Etsy
Very pleased with my new drinking bottle. The Smokey Quartz tower is bigger than I thought. Very satisfied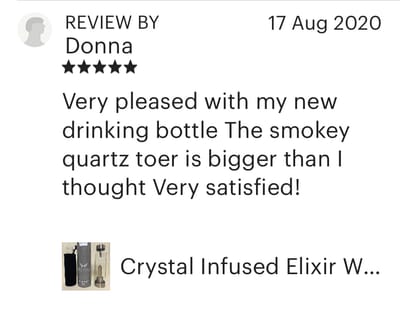 Megan Davies:
Etsy
Lovely personalised thank you card and angel pendant! Thank you, will definitely order again if I need more tarot cards.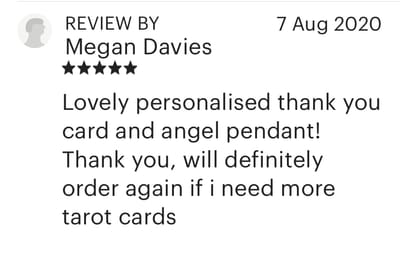 Emily Mellor:
Etsy
Friend loved her gift! Would recommend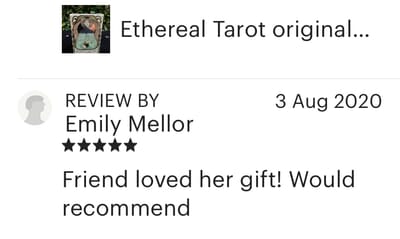 Edward:
Etsy
What a beautiful deck of cards and book. Thank you so much for the quick despatch and great item. The thank you card was really sweet too, thank you Jody x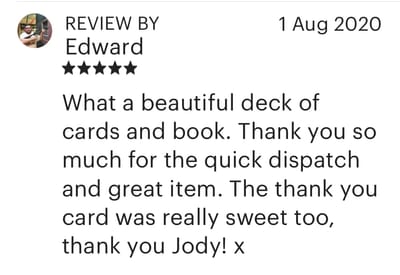 Mark Reeves-Davies:
Etsy
There was everything I had ordered, and more, all excellent quality, and first class customer service. 20 out of 10 Thank you 'The Earth Angels'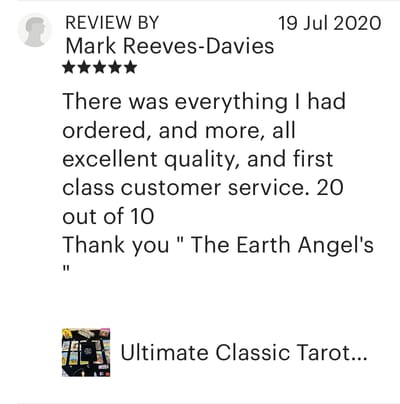 Emma Baxter:
Etsy
Absolutely wonderful. Very well packaged and quick delivery. Will use again 🖤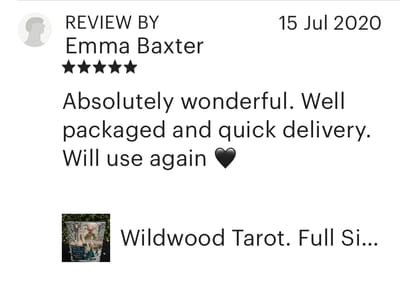 Michelle:
Etsy
ROSE QUARTZ CRYSTAL ELIXIR WATER BOTTLE REVIEW: Absolutely love this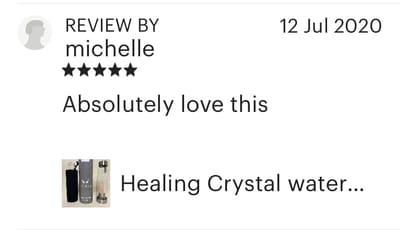 Helena Varley:
Etsy
ULTIMATE CLASSIC TAROT SET REVIEW This is an absolutely beautiful set! Really generous size crystals and sage bundles. Jody has been so helpful, kind and quick to respond. Incredibly good value and gorgeous set.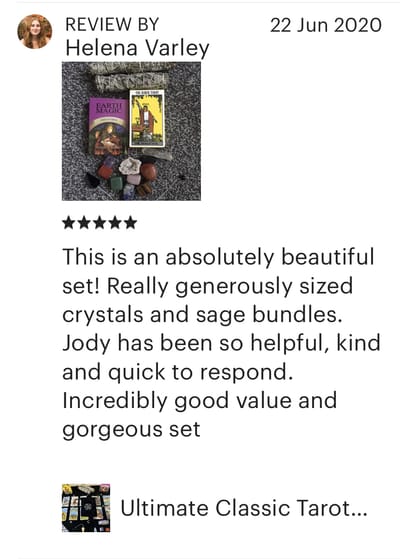 Kathryn Elaina:
Etsy
OBSIDIAN CRYSTAL ELIXIR WATER BOTTLE REVIEW: I'm slightly obsessed with this water bottle, I've spent ages looking for a decent glass bottle to take to work with me and then I came across this article about crystal water bottles and it's been wonderful. The quality is fantastic! I'm about to buy another one for my mum!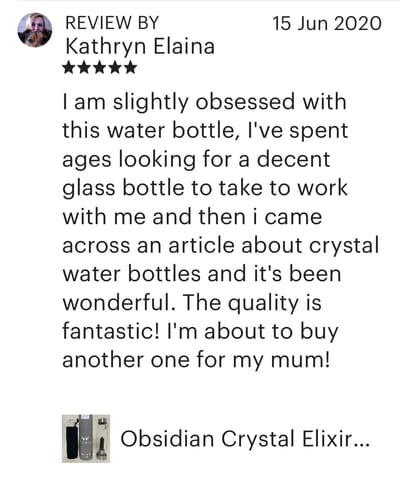 Joanne Dinsdale:
Etsy
'Lovely cards, great service'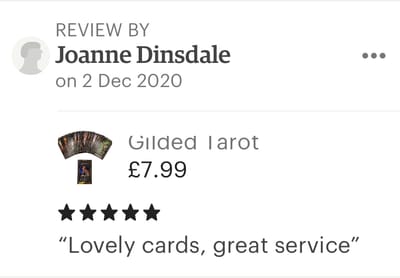 Silver Labyrinth:
Etsy
Arrived really fast, well packaged. Cards are perfect, thank you to the seller 😊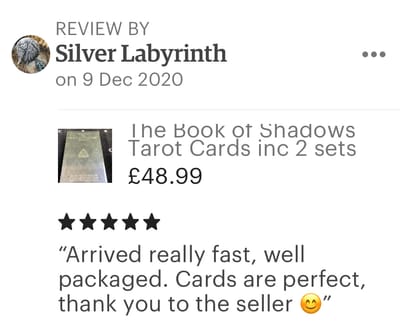 Jules:
Etsy
Beautiful Crystal water bottle, so nicely constructed and containing a magnificent , amethyst crystal, I'm so impressed and love using this practical work of art; beneficial for health too! ❤️